Semi-private & Private Lessons
Our Teaching Philosophy
We expect from our students the same things we are dedicated to providing to them:
Respect & 100% Effort!
We believe that teaching is a privilege and that teachers have a responsibility to be excellent educators as well as exceptional role models. We believe that all students learn best when there is mutual respect. We consider it our responsibility to find the teaching methods that reach each individual student, not the other way around. We believe the personal goals of our students playing recreationally are as important as those of our students playing professionally.  We know that success is reached only when athletes are encouraged to push themselves to the point of failure, which is why we reward the effort, not outcome.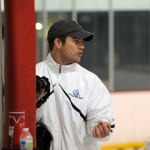 ColdRush weekly private and semi-private skating and skills lessons are available for hockey players of all levels and ages at the Ashburn Ice House  from September through June. (At this time we are only offering lessons in Ashburn.  However, we have the ColdRush INTENSIVE at the Kettler Capitals IcePlex on Mondays and Fridays.)
Most lessons are semi-private (no more than 4 in a skating lesson, no more than 6 in a skills lesson). Private lessons are only available at off-peak hours (weekdays 9am-2pm).
Demand for ColdRush lessons is extremely high. Prospective students are encouraged to be as flexible as possible to help ensure placement.
Once a lesson time is confirmed it typically remains the same throughout the entire season, however, students may discontinue lessons for any reason by providing 2 weeks advanced written notice.
Types of Lessons

SKATING  – These weekly lessons focus exclusively on hockey's fundamental skill, skating. Power, speed, agility, quickness, stopping, and balance are among the many skills covered. Skating lessons are given on "Power Ice" sessions. This ice is exclusively available to hockey players taking skating lessons. Students can skate with sticks and pucks and can go full speed in any direction. No shooting or passing.
SKILLS  – During these weekly lessons players work on positional play, decision making, and puck skills. Shooting, stick handling, passing, defense, and battling are among the skills covered. These lessons are given on "Power and Puck" sessions, exclusive training ice for skills students.
TUNE-UPS  – Individually scheduled private lessons at an off-peak time (typically a weekday between 8:30 and 11am) with the specific focus determined by the student/parent. These "one-timers" are intended to address any immediate concerns, specialized training such as force cords or private video analysis, or for our visiting out of town students.
Rates
The lesson rates vary based on the lesson length, whether it is private, semi-private, or group.
The ice fee is a separate cost determined by, and paid directly to the rink.
Most of our lessons are semi-private, 45-minutes and cost $45 plus the ice fee.

Sign-up!
You don't have to be tough to have a dream. You have to be tough to push through the nightmares that make it come true. ~ColdRush