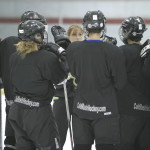 Wendy Marco is originally from Los Angeles, California.  Her family moved to Northern Virginia when she was 10.  A competitive figure skater throughout her childhood, Wendy trained primarily with Olympic and World coach, Audrey Weissiger at Fairfax Ice Arena in Fairfax, VA.  After graduating from Chantilly High School, Wendy taught aerobics, worked as a dance choreographer, and did some private training for Golds Gym.  There were no ice rinks near her university, so in college she joined the water ski team and competed in three events, slalom, trick, and jump.   Her senior year she earned the chance to compete at the National Collegiate All-Stars in slalom and trick.   Wendy graduated from Texas A&M University with a degree in Communications and a minor in Theatre.  She  worked for a short time as a television news reporter for a CBS station and came back home to Northern Virginia in 1992 with the intention of breaking into the TV news business near her family.
While pursuing her next TV position, she took a part time job as a skating instructor at her childhood rink.  One day a young hockey student filled out a request for lessons.  At the time it was uncommon for hockey players to request skating lessons, and after every other instructor turned it down, the rink manager passed it on to Wendy.  That first lesson, with seven year old Kevin Breeden, was a turning point in Wendy's life.  All of the things she had done up to that point; the years of edge work as a figure skater, the tight turns and transitions she mastered as a slalom and trick water skier, the  knowledge of human kinetics that she had gained as a strength trainer and aerobics instructor, the communication skills she had mastered as both as  a student of communication and as a professional television reporter, in addition to her highly competitive nature that had carried her through all of her endeavors, came together when she taught her first hockey skating lesson.  Kevin's teammates and coaches noticed his improvement and before long Wendy had as many hockey students as she did figure skating students.
The Reston rink opened in October of 1993, and Wendy moved to that facility, teaching figure skating half of the time in figure skates and changing into hockey skates to work with her hockey players.  It was during the first year of the "Reston Ice Forum's" existence,  that she moved her hockey players from the figure skating freestyle sessions over to the other sheet of empty ice… much to the joy of the figure skating coaches!  Not too long after that she offered her first hockey skating clinic.  She spent weeks trying to figure out what to call her new program and after much deliberation she titled the 3-day event, "Power Ice".
Power Ice was packed with players from all over the Washington region.  It was just after that clinic that the name "Power Ice" became the term that DC's hockey community would use to describe the ice where Wendy was teaching. Then some of the other rinks around Washington DC started opening up ice for hockey players to take lessons too, and folks began referring to those sessions as "Power Ice".  The Reston Ice Forum was one of the first rinks to offer group beginning skating lessons to hockey players, and they called their classes "Power Ice 1, 2, and 3".   As hockey skating instruction grew in the area, "Power Ice" became such a commonly used term that by the time Wendy decided she needed to make her company official and legally give it a name,  "Power Ice" had been used so much that it was no longer associated just with her.  Instead she called her company, "SkatePower".
1998 was a year of many changes.. She had a baby, she officially stopped teaching figure skating, and the Ashburn Ice House opened and Wendy become the Ashburn Ice House's first, and to date, only, power skating director.  She offered hockey skating lessons in Ashburn and continued to teach in Reston (by then called SkateNation), for another couple of years.  She was the skating coach for the Washington Little Capitals from 1996-2009, and she worked for both the Washington Pride and Montgomery Girls programs for several years in the early 2000's.  Around June of 1999, the NHL's Washington Capitals asked Wendy to run the skating for their summer youth camps and special events.  A position she served in for over ten years.  She also took on a role as a USA Hockey CEP instructor teaching the Level 1 and 2 coaching programs, and later as a featured presenter at the USA Hockey Level 4 Coaching Clinics.  The Ashburn Xtreme was established in 2002 and for 10 straight seasons, Wendy served as their head skating coach.
As the success of Wendy's students was noticed outside the Washington region, she earned a reputation as one of the top hockey skating coaches in North America.  In 2003 she was asked to speak at the first International Hockey Skating Symposium.  She returned two years later as a featured presenter at the 2005 International Hockey Skating symposium.  At last check, USA Hockey still sells her presentation from the latter event.  In 2003 the Washington Capitals asked Wendy to serve as the skating coach for their AHL affiliate, The Portland Pirates.  Now an Internationally recognized skating coach, whose business was growing rapidly, Wendy decided that the name SkatePower no longer truly captured the spirit of her company.  SkatePower officially became ColdRush in 2005, just as former student Mike Ansell was ready to take on a bigger role as the director of skills.
Over the next ten years Wendy invented several pieces of training equipment and received two patents, including a patent for the "Force Cords" which are used by NHL and European Elite teams. She produced a hockey skating DVD, and wrote a monthly column about hockey skating which was syndicated to magazines throughout the US and Canada.  She re-designed the hockey skating curriculum for the Professional Skater's Association.  She's had dozens of students earn college hockey scholarships, and saw many more get placed on NCAA Div 1  and professional teams.  In 2010 the NHL network took notice as former Capital and NHL veteran, Jeff Halpern, became noticeably faster.  Halpern publicly credited Wendy for helping him discover an unexpected boost in speed late in his career.
ColdRush remains today, what Wendy's lessons have been from the very beginning; innovative, challenging, and motivating.  Even after more than 21 years of training hockey players, Wendy and her staff are still excited to hit the ice daily looking for new, better, and more inspirational ways to help their athletes pursue their passion to the maximum of their ability!